All The Features You Need For Database Design – Simple But Powerful
Simple User Interface
Our clean and non-intrusive user interface makes DB Designer fast and
ridiculously easy to use with all the features you really need.
Friendly UI for Modeling
DB Designer's user interface is specifically designed to be simple and user friendly. Our database design tool offers more features than other commercial alternatives and can be used anywhere on any browser. This makes DB Designer fast and reliable no matter the size of your database.
Fast & Reliable DB Design Tool
Our online designer is packed with all the features your really need… and none of the fluff. Features like Mini-Map for fast navigation, keyboard shortcuts, instant save with history, Copy & Paste, Undo & Redo, Table Cloning, Automatic layout, Notes & Comments make database designing fun and save you lot of time.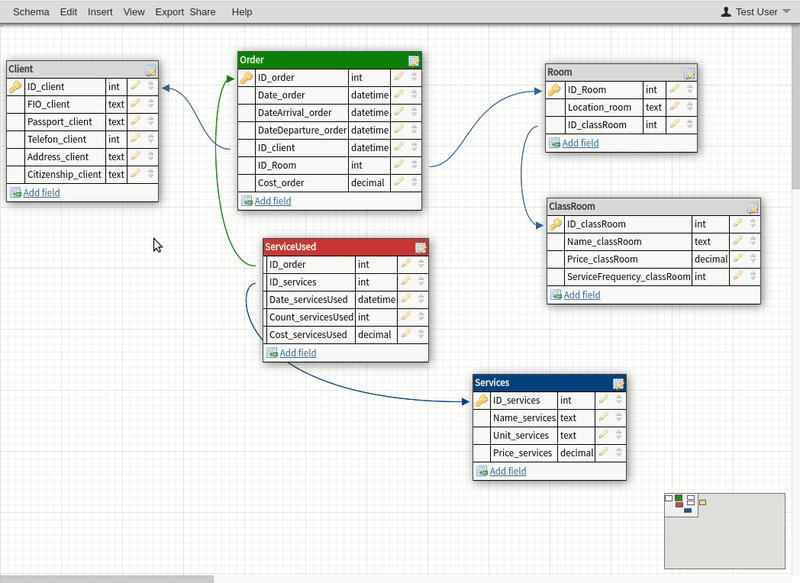 Reverse & Forward Engineer
Reduce errors and save time. Import an existing database or start from scratch.
Generate a script for every major database engines with one click.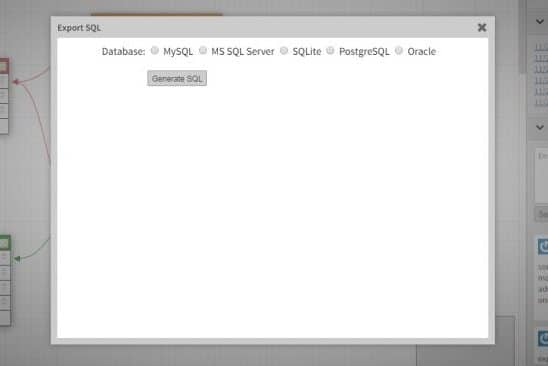 Import an Existing Database
If you already have an existing script, import it in DB Designer for reverse engineering. We currently support MySQL, PostgreSQL and Oracle for reverse engineering. Support for MS SQL and SQLite will be released in coming weeks. Check our Blog or Change Log for updates.
SQL Script Generation
Use our export feature for forward engineering. At any time you can generate an SQL script for MySQL, MS SQL, PostgreSQL, Oracle and SQLite databases. We are working on adding more database engines, please check our Blog or Change Log for updates.
Secure & Safe
Security is our top priority and we use some of the most advanced methods available to protect our users. DB Designer is setup as a command-line Java application which is run on your system. We do not ask for your database credentials nor do we make a connection to your database.
Team Collaboration & Sharing
Invite your team and share access (Owner, Editors, Viewers) by simply providing team member's email. Work on the model at same time. Use live comments/chat to collaborate with your team.
Invite Team Members Privately
Team collaboration allows you to work remotely with all stakeholders in your team on the same project. Share your database models privately by simply providing team member's email and clicking a button. You can share model with your team at three different access levels: Owner, Editor and Viewer. Owner can change access level at any time.
Public Sharing
Quickly create and share projects with public. Public sharing feature allows user to create universal link, anybody with has this link can view the project and create their own copy. Ideal for bloggers and academic users.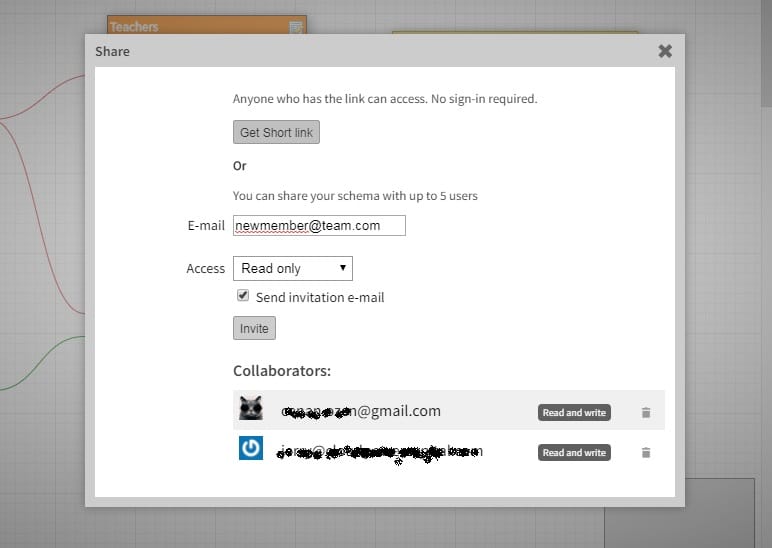 View Modes
Customize your project view using view modes. Mini-Map for fast navigation. Automatic sorting and layout. Change line type and color. Options to show/hide default values, foreign key icons, not null icon, auto increment icon etc.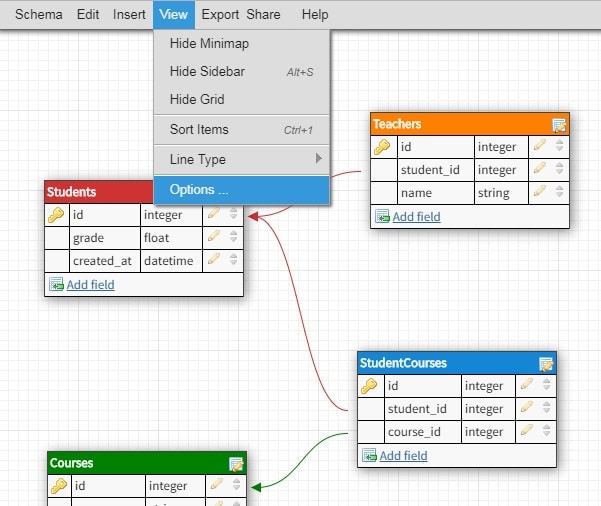 Change Language
DB Designer has been translated into 26+ languages including Spanish, Dutch, Chinese, Russian, Portuguese and many more. Click on View in main menu and select "Options" from drop down to change your default language.
Different View Modes
You can Show/Hide Mini-Map and Grid in the background. Users can also Show/Hide Sidebar which shows the project properties, version history and comments for a full screen view. Change your line type preference from Bezier to Cornered. Advanced options allows you to change line color and Show/Hide icons for Foreign Key, Auto Increment, Not Null or show default values. For large projects use "Sort Items" option to automatically sort and organize your diagram.
Advanced Export Options
In addition to generating SQL script for all major database engines, you can also export your database in image (PNG) or PDF. You can also create a public view link of your schema. More export options coming soon (JSON and XML)
Generate PNG or PDF
Users can export their schema diagram in PDF or PNG format any time for sharing, presentations, printing or any other purpose. We are working on adding support for additional export options including JSON and easy to read XML. Please visit DB Designer Blog or check ourChangelog for updates.
Export SQL Script
At any time you can export ready to deploy SQL script with one click for MySQL, MS SQL, PostgreSQL, Oracle and SQLite. We are adding support for additional database engines and data warehouses including Snowflake, IBM DB2, MongoDB, Amazon Redshift and Maria DB. Please visit DB Designer Blog or Change Log page for updates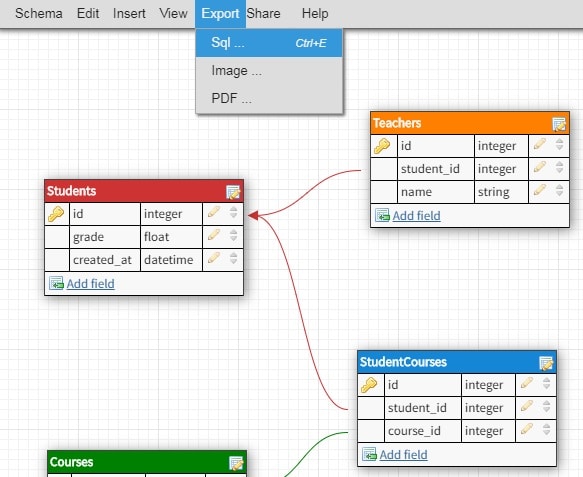 Account & Project Management Dashboard
User dashboard is designed to improve user experience and allow you to manage your project and team settings effectively. Use account and billing settings to manage your preferences and make changes easily.
Project & Team Management
User dashboard allows you to manage your projects easily. Open, Rename, Delete, Archive and Copy projects instantly. View full version history of your project to compare changes. Project owners can also manage their teams easily by adding or removing team members from any project or changing their access level any time (Owner, Editor & Viewer).
Account Settings
Manage your account settings and preferences or change contact information and password any time. For GDPR compliance we allow you to close your account permanently and delete all your data with click of a button from your account settings page. You have full control of your account.
Billing & Payment Settings
Visit billing settings page to view your full billing history, download copies of your receipts, change payment methods and upgrade/downgrade your plan any time. You can also cancel any active subscription with click of a button. No need to waste time sending support requests.